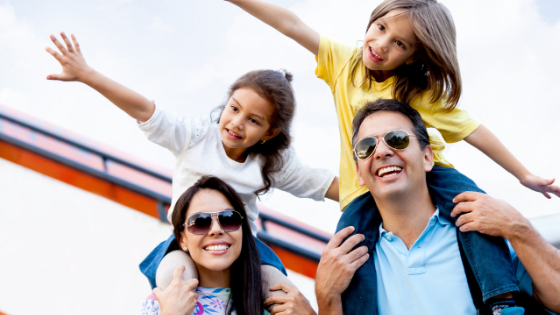 Summer may be over, but it doesn't mean that fun family vacations have to be. Fall is officially here bringing along with it cooler weather, changing leaves, and plenty of fun adventures to be had.
Fall also means that the holidays are just around the corner! Does your family vacation during the holidays?
Whether your family has a winter ski trip planned, a cruise, or even a road trip to see extended family, with a few dollars and a little pre-planning, you can make your next family vacation unforgettable – literally!  
Here at YourBagTag, we are big fans of personalized products (especially custom luggage tags) because it's these "little" things that help you keep the memories fresh from the precious times that you share as a family traveling. And those memories matter.
Here are some fun and fabulously affordable ways to commemorate your next family vacation.
#1: Custom T-shirts
A popular trend that more families are starting to do is to mark their vacation, family gathering, or event with personalized t-shirts. You've probably seen these around….at the airport, on the cruise ship, or even online at social media sites like Instagram and Facebook.
Matching t-shirts leave a lasting memory of the event. Every time you see your shirt in the closet, it takes you back to that fun cruise or ski trip you took with your loved ones. Plus, these make for great photo ops! 
Wear your custom t-shirts on the day you head out to get everyone geared up for the adventure. Or, choose a particular day where you plan to take plenty of family photos. These shirts are pretty inexpensive and a fun way to commemorate your trip.  
We've seen some families get t-shirts for every day of the week!  (This seems to be particularly popular for trips to Disney). But why not? Not only do they make great pictures, you don't have to figure out what to wear each day!
And getting your shirts made is easy. You can order shirts online or find a local business that specializes in custom t-shirts, like Big Frog Custom T-Shirts and More here in Bentonville, AR.
#2: Personalized Tumblers
Traveling can leave you feeling dehydrated – especially air travel. So get your thirsty travelers each their own personalized tumbler. There are so many different types to choose from! You can select plastic cups, stainless steel, water bottles, mugs, or even a sippy cup for your tiniest travelers. 
Like personalized t-shirts, these are not hard to find. Purchase them at a local gift shop, or find them online at places such as Etsy or Amazon. Tervis even offers a variety of personalized cups online.
 Bonus tip:In addition to putting your vacation destination on your travel cups, it's a good idea to include each of your family members' names on theirs to keep them from getting mixed up!
#3: Create a Travel Photo Book
Today, capturing the moments of your trip is pretty easy with our sophisticated phones. Some of the latest ones have unbelievably good cameras! But what happens once you've taken your vacation photos?
Do they remain on your phone? Do you upload them to social media? Neither of these is bad, but they aren't always accessible to other family members…especially children who aren't old enough to see the photos on social media.
So, collect your great family pictures and capture cool photo ops throughout the trip, then turn them into a family photo memory book!  Shutterfly has a fantastic collection of templates for travel photo books.  Whether your family went backpacking, skiing, cruising, or even took a trip to the Big Apple, you'll find a nice selection of travel book templates allowing you to mark the memories forever.
#4: Fun Tags for Your Luggage
Did you know that you can mark your luggage with a fun, custom tag for any special occasion! Of course, you'll want to include your contact information on your luggage tags, but why stop there? If your family is planning a special trip, order customized suitcase tags to commemorate the occasion.
At YourBagTag, we create tags that you can use on backpacks, carry-on bags, suitcases, and any other travel gear. You can send us your logo or tag idea, or choose from one of our fun designs - like this one from our friend Lisa Miceli at Stoked On Salt.
Order a set of these, or one of our other fun designs for the whole family for your next vacation – and make sure to tell us where you are traveling to so we can include it on your tags.
Not only will these tags remind you of your amazing family vacation, but you'll also be able to spot your bags easily at the airport baggage carousel! They may even help you get through the line faster.
 As our friend Lisa shared with us:
 " When we were in the Miami and Bonaire airport.... we were able to skip the long line because of our Luggage Tags we bought.... everyone else had to sit and write their contact info on the paper tags but not us!   We had all our info on the tags!" – Lisa Miceli, Stoked on Salt.
How Will You Make Your Next Family Vacation Memorable?
As you are planning your next family getaway, start thinking about how YOU are going to commemorate it so that your family remembers this special time for many years to come. Now, if you have teens, they might roll their eyes a few times (especially if you ask them to wear matching t-shirts), but at the end of the day, they'll cherish the memories as much as you. 
When you look back at your fun tumbler, your photo book, or your cute bag tags, it will trigger those priceless memories over and over again!