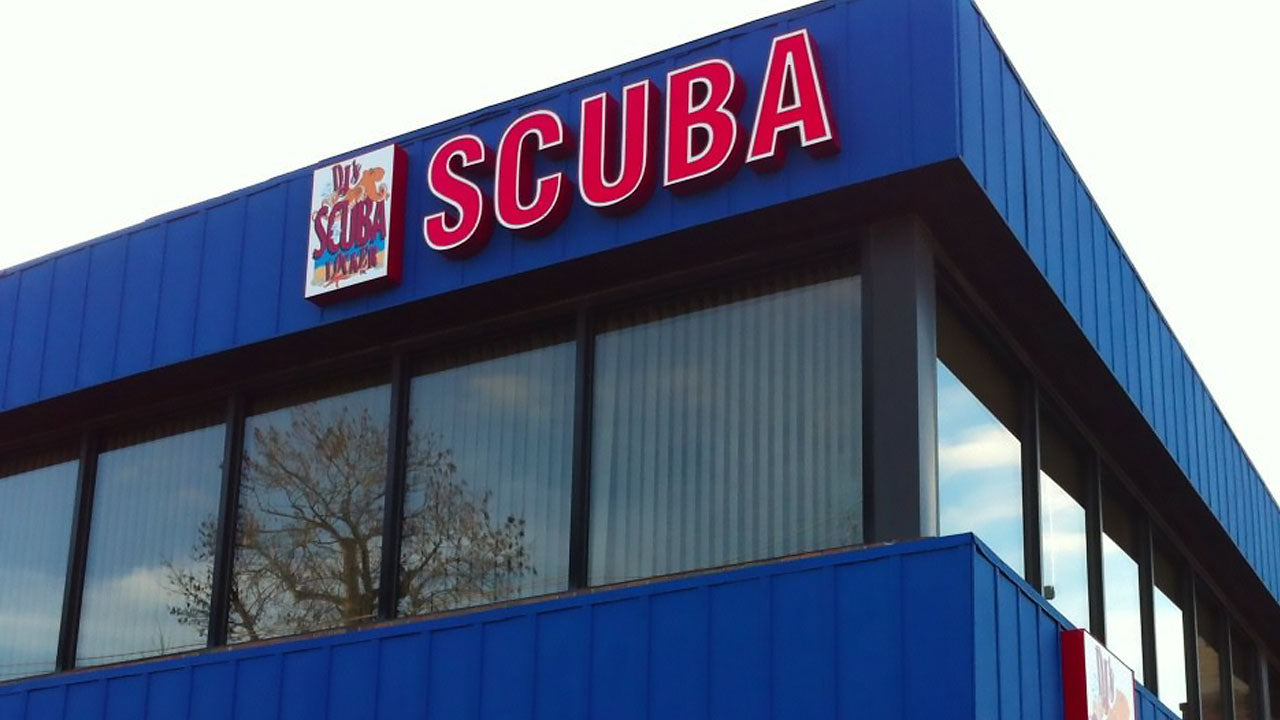 Our Featured Dive Shop of the Month 
Since our earliest days, YourBagTag has focused on providing custom scuba tags for dive enthusiasts. And many of the ideas for the equipment tags, personalized zipper pulls, and work order tags were a result of a collaboration with our dear friends Dan and Cindy at DJ's Scuba Locker.
This week, we're sharing their story and we think you'll find them as amazing as we do!
About DJ's Scuba Locker
DJ's Scuba Locker, located in Brookfield, IL, opened its doors in 1995, but Dan and Cindy's passion for diving started way earlier. Dan was a certified diver when he and Cindy met. Although Cindy was not, she quickly developed an interest and in 1984, the year they were married, she earned her diving certification.
Dan became a certified PADI instructor in 1986 and they started a dive club. After several  years of traveling with their dive club, they decided to take it to the next level and opened their own dive shop. So in 1995, DJ's Scuba Locker opened in a small storefront in Lyons, IL. As the business grew, they eventually moved to their current location in Brookfield in 2012.
DJ's Scuba locker is a full-service SDI/TDI/ERDI Professional Develop Center and a PADI Dive Center, specializing in Public Safety Dive training, equipment sales and travel. DJ's runs three to four scuba diving trips per year to amazing locations such as the Cayman Islands, Maldives, Cozumel, and Bonaire.
DJ's also works with Fire Department dive teams, providing them service for their dive equipment, training and purchases since 2006.   DJ's works with over 65 of these departments and partnered with the Romeoville Fire Academy in 2012 to instruct their subsurface classes through ERDI. 
In 2016 DJ's Scuba Locker became the National Service Center for the Interspiro Surface Supplied Air Systems, which are used by fire departments for recovery, rescue, and locating evidence.
DJ's Community Outreach
In addition to being an awesome dive shop and resource for fire departments, DJ's Scuba Locker has found several ways to give back to the community by sharing their love of everything diving.
DJ's is a strong supporter of  Soldiers Undertaking Disabled Scuba (SUDS) program whose Instructors  teach Veterans from Walter Reed and Bethesda hospitals how to scuba dive. They also participate in fundraisers for these Veterans and are proud to say that one of their amazing customers even sponsored a SUDS diver on a recent trip to Cozumel.
Additionally, each year, DJ's partners with the Shirley Ryan Ability Lab and the Wounded Hero Foundation to support Wounded Veterans through an adaptive sports and military camp. These Veterans come to camp for a long weekend event to participate in a round robin of sports including rock climbing, basketball, swimming, and of course, scuba diving.
Besides donating the equipment, dive instructors and volunteers, DJ's teaches Veterans how to scuba dive and play games underwater such as, hockey, torpedoes, and underwater bubble guns.
According to Cindy, the underwater scuba games are always a big hit for the Veterans. This past year, DJ's designed a challenge coin for all Veterans who participate in the scuba portion during this camp. When they complete the challenge, a scuba instructor and military veteran who works for DJ's, palms the Veterans their challenge coin underwater.
DJ's also works with the Shirly Ryan Ability Lab to sponsor scuba programs for children who have  disabilities or have been injured. Some of these children have the opportunity to get certified in scuba. DJ's partners with a dive shop in Florida, Sea Dwellers Dive Center, who provides the dive boat and crew for the dive trip with the kids.
DJ's Scuba Locker and YourBagTag
Yes, we think DJ's Scuba is pretty special. And we are proud to say that they've been with us on our journey from the very beginning. When we first had the idea to create tags to help scuba divers identify their gear, we approached Cindy and Dan and asked for their help.
They donated props and let us borrow equipment to test our ideas on. And they provided ongoing feedback and suggestions for new products to service scuba divers, dive shops, and dive resorts.
DJ's was instrumental in helping us come up with many of the ideas such as the wetsuit zipper pulls and custom mask straps. Together, we also came up with the idea of the Velcro straps for scuba tanks to help identify them.
"It's great to be able to personalize your gear", said Cindy. "As a thank you to our customers who join us on one of our trips, they receive either a personalized BCD tag, zipper pull, luggage tag or key chain from YourBagTag as a memento."
Cindy also asked us to design work order tags to mark their customer gear and writeable BCD tags for tracking equipment, which we were happy to do.
According to Cindy, "It used to take a lot of time and effort to keep the service documentation with the equipment.  Now, this tag stays with the equipment throughout the entire service process.  We also asked to have the ability to keep track of equipment by diver for the caring for kids program.  We asked, and they delivered.  A writeable BCD tag was designed for our programs."
So, we worked with DJ's to design these tags for their needs.  Two examples are below. 
We were more than happy to help Cindy and Dan come up with a more efficient way to track service orders and mark dive equipment. It has been a great partnership over the years! 
They are one of many dive shops across the country and around the world that we are proud to partner with.
Whether you need custom tags to identify your dive shop gear, mementos for your dive travel customers, or a custom solution like DJ's work order tags or BCD equipment tags, we are happy to help you make your dive shop stand out.
Give us a call at 479.553.7275 or send an email to info@yourbagtag.com.
We look forward to hearing from you!