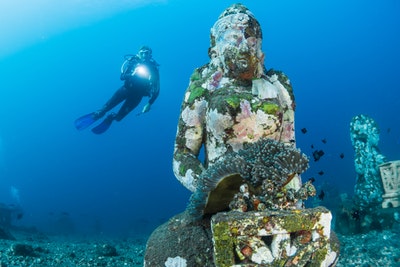 Whether you want a wreck or a reef, have the money to splurge on a bucket-list dive or are looking for a budget-friendly trip, the best scuba diving in the world will give you that option.
Adventure tourism, especially scuba diving, is becoming more and more popular. It's something you can with your partner, solo, or even with your whole family. Kids as young as age 10 can get scuba certified, making this a unique family activity.
Keep reading for 10 suggestion for finding the best scuba diving in the world and start planning your 2019 dives today!
The Best Scuba Diving in The World: 10 Places for Your Diving Bucket List
Scuba diving is addictive. Once you start, it's hard to stop! Whether you're a beginner or a veteran diver, these dives are ones you should add to your diving bucket list. While you're at it, you should plan to get a personalized scuba equipment tag to commemorate each of your bucket list dives.
1. Great Blue Hole, Belize
This dive spot is a deep and wide hole that's outlined by a coral reef and inhabited by sharks. The reef is colorful and bright. It descends into a blue hole that transitions from saltwater to freshwater 15 meters down. Ancient caverns, huge tuna, and stalagmites and stalactites are some of the thrills you'll see on this dive.
2. Maldives
The Maldives are a scattering of islands far out in the Indian Ocean. The islands are surrounded by reefs full of marine life. The best times to go for diving are during the Northeast Monsoon and the Southwest Monsoon.
If you visit during these times, you can see schools of fish like barracuda, tuna, sharks, and eagle rays. Manta rays and whale sharks can also be seen during certain seasons.
3. The Galapagos Islands, Ecuador
The Galapagos Islands have some of the most unique wildlife, both above and below the sea. Sea lions, manta rays, moray eels, hammerhead sharks, and tropical fish can all be seen during a Galapagos dive.
The current is very strong at Gordon Rocks, but this can be a good thing as it brings all of the sea life right to you.
4. Mary's Place, Roatan, Honduras
Mary's Place, in Honduras, is a sheer-walled crevasse. It's lined with black coral and good buoyancy is necessary to descend and traverse the crevasse.
Brightly-colored corals bring anemones, seahorses, spotted drums, parrotfish, and white spotted filefish that actually change colors.
5. Gran Cenote, Riviera Maya, Mexico
If you are a fan of cave and cavern dives, Gran Cenote is the dive for you. The water is shallow and clear. Cenotes are a naturally occurring sinkhole that emerges when limestone collapses. They are very common along the Yucatan Peninsula of Mexico.
Gran Cenote is full of caverns and caves that you can explore deep inside the rock. Look for families of turtles and marvel at the stalagmites and stalactites in the crystal clear water.
6. Tiger Beach, Bahamas
Tiger Beach isn't an accurate name, because there's no actual beach. Tiger Beach is a dive spot that is about an hour from the west end of Grand Bahama Island. If you want to dive with and photograph tiger sharks, is where you want to be.
Tiger sharks, named for their vivid stripes, are plentiful in this area. Not only can you see tiger sharks, but lemon sharks, nurse sharks, Caribbean reef sharks, and hammerhead sharks all frequent this area as well.
Thanks to the Bahamas for making the waters surrounding the islands a marine sanctuary, the ecosystem is thriving and healthy.
7. Barracuda Point, Sipadan, Borneo, Malaysia
Getting to Barracuda Point requires some serious travel, but it's well worth it. Made popular by Jacques Cousteau, Sipadan Island is formed by living corals growing on the top of an extinct volcano.
A dive at Barracuda Point will bring turtles, octopuses, white-tip reef sharks, gray reef sharks, eagle rays, and the namesake barracuda. The barracuda gather in the thousands and create tornado-like formations.
8. Acropolis, Great Barrier Reef, Queensland, Australia
The Great Barrier Reef is the world's most famous reef, of course, and the Acropolis is like nothing you've ever seen before. The colorful reef is thick with hard corals and full of invertebrates and schooling reef fish.
The Great Barrier Reef has the world's largest collection of coral and is the only living thing on earth visible from space. It's safe to say that any dive here will be well worth your while!
9. Blue Maomao Arch, Poor Knights Islands, New Zealand
While you're in Australia to dive the Great Barrier Reef, pop over to New Zealand to experience Blue Maomao Arch, part of the Poor Knights Islands. The arch is full of light from both ends that look almost god-sent. You might see fish like white spotted demoiselles or the vibrantly blue Maomao.
10. Ras Mohammed, Egypt, Red Sea
Last but not least, is the Ras Mohammed Marine Park. It's located at the tip of the Sinai Peninsula, where the Red Sea and the Aqaba and Suez gulfs meet.
The walls of the reef are covered in soft coral and bright orange reef fish, the anthia. Fish like the nudibranch, Napoleon wrasse, snapper, unicornfish, jacks, and barracuda all call this reef home in the summer months.
What's On Your Bucket List?
Which of these dives is on your bucket list? Not only do these locations provide some of the best scuba diving in the world, but they also offer you the opportunity to visit far off lands and experience local cultures unlike any other.
As you start planning your next dive trip, check out our scuba ID and name tags and make sure your equipment has identification.